Our Favourite London Picnic Spots
Over the last year we've fallen in love with picnics all over again - and with good reason. Believe it or not London is one of the greenest capitals in the world - and we're here for it! We wanted to share some of our favourite London parks with you - and we can't wait to hear what yours are too! 
London Fields
This little triangle of grass located in Hackney is not the prettiest park in London - but we absolutely love the energy of the people here. With people from all walks of life, its a great people watching spot and always a vibe. From impromptu live music, to food from the great eateries around the corner on Broadway Market its a spot not to be missed on a sunny Saturday afternoon.
Hyde Park
It's a tourist hotspot for a reason! Nestled in the very centre of London, a stones throw from Buckingham Palace and Kensington Palace. As wild swimmers, we love the Serpentine for a quick splash on a hot summer's day. The largest of the royal parks, no two visits are the same - and we love that we still get lost on a hot summer's day in here.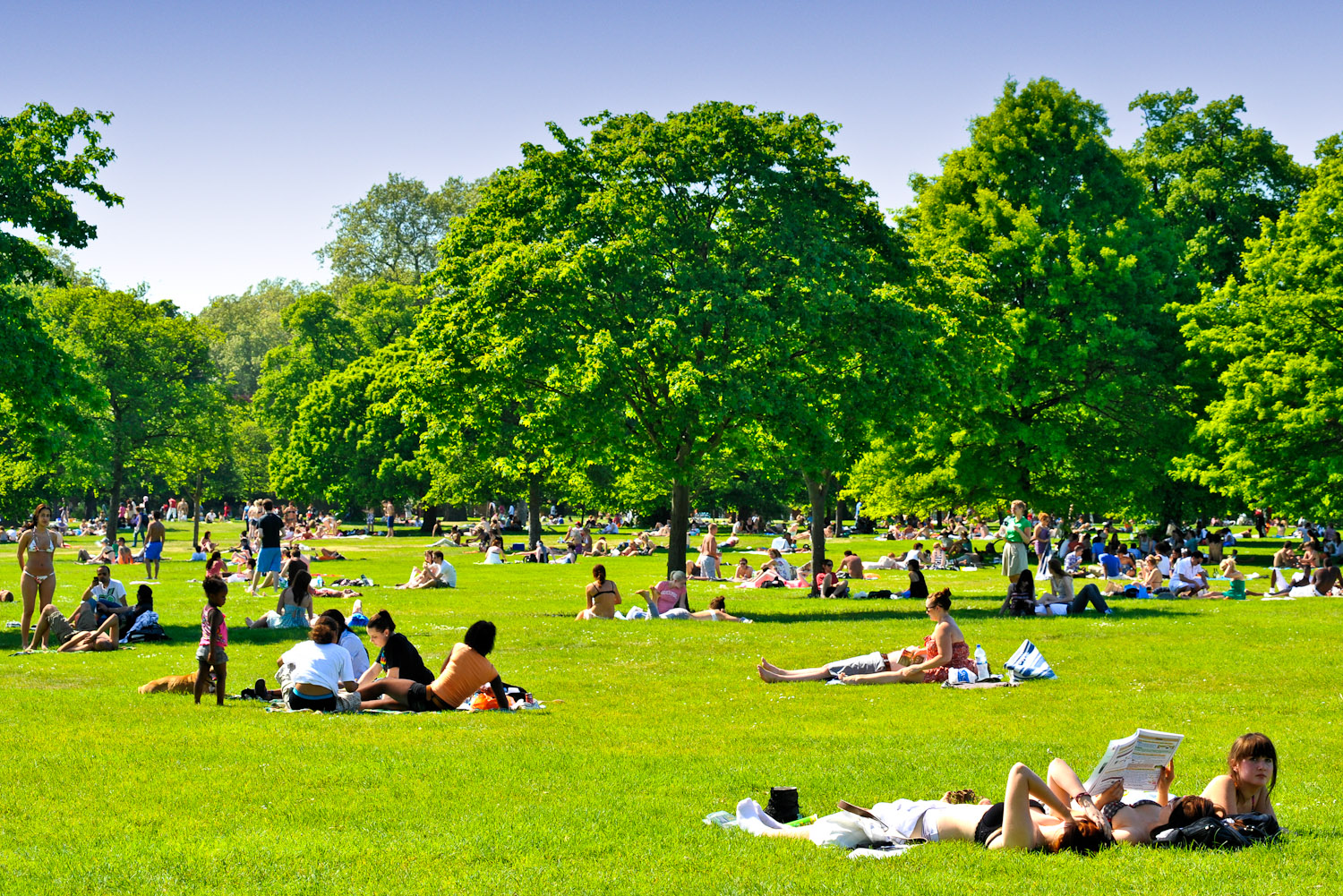 Wimbledon & Putney Commons
We're not sure if a commons is officially a park, but we love the ruggedness of Wimbledon & Putney Commons. A short walk from the river, this green space feels like its 100 miles from the city. We love trail running around the commons, pretending we're lost in the wilderness and collapsing on the grass to catch the final rays of sun at the end of a long day working from home.
Richmond Park
The largest of all the royal parks in London and home to 632 deer, who have been roaming freely in the park since 1637. When we're feeling active we love cycling the 10k lap of the park, or trail running through the middle - where again its easy to forget you're in London. Surrounded by great local pubs with some of the best Sunday Roasts in London we love spending a wholesome Sunday in the area.
Hampstead Heath
Last but not least our very favourite spot for a picnic. Hampstead Heath is located on the hill up from Hampstead, with a stunning view back over the city. We love coming here after work, cheersing to the end of the day and enjoying our current favourite bubbles - Simonsig's Blanc de Blanc, the Cuvée Royale.
We'd love to hear what your favourite parks are - we can't wait to discover more of London's green spaces.